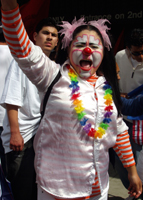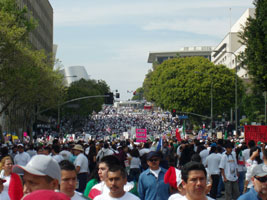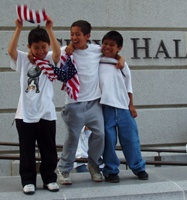 MARCH FOR IMMIGRANT RIGHTS: LOS ANGELES
m a r c h 25 2006
ON MARCH 24TH, 2006, SEVERAL THOUSAND
STUDENTS WALKED OUT OF SCHOOL IN
LOS ANGELES AND THE GREATER
SOUTHERN CALIFORNIA AREAIN PROTEST OVER
REPUBLICAN HOUSE JUDICIARY COMMITTEE CHAIRMAN
F. JAMES SENSENBRENNER'S ANTI-IMMIGRANT HR4437 BILL.
ON MARCH 25TH, 2006, 1 TO 2 MILLION PEOPLE
FILLED THE CITY CENTER OF LOS ANGELES.
THEY CREATED A SOLID WALL OF HUMANITY
THAT STRETCHED BACK AND FORTH OVER AND AROUND
SEVERAL BLOCKS AS FAR AS THE EYE COULD SEE.
AT POINTS, IT APPEARED THAT A MULTITUDE OF MARCHES
WERE TAKING PLACE, MOVING IN ALL DIRECTIONS AT ONCE.
PEOPLE COMPLETELY SURROUNDED THE 101
FREEWAY ALL DAY WITH BANNERS, SIGNS, AND
FLAGS, CHEERING AND WAVING, AND THE
SOUND OF HONKING CARS AND TRUCKS
CONTINUED UNBROKEN FOR HOURS.
AT ONE POINT, A YOUNG MAN STOPPED HIS CAR
IN THE MIDDLE OF TRAFFIC ON THE FREEWAY,
GOT OUT, AND STOOD ON THE ROOF TO WAVE
A GIANT RED BANNER OF CHE GUEVARA.
AT ANOTHER POINT, I HEARD A WOMAN AND MAN
SPEAKING ON THEIR CELL PHONES, TRYING TO LOCATE
EACH OTHER. THEY WERE STANDING ABOUT
10 FEET APART, BACK TO BACK, AND
I WAS RIGHT IN THE MIDDLE LISTENING TO THEIR
CONVERSATION AS THEY LOOKED OUT FOR EACH OTHER
OVER THE BRIDGES THAT CROSS THE 101.
I TAPPED THE WOMAN'S SHOULDER AND
POINTED TO THE MAN, AND THEN WALKED AWAY
AS WE ALL LAUGHED.
---
FOUR FUNDAMENTAL ELEMENTS OF A FASCIST STATE ARE:

CORPORATISM
IMPERIALISM
REPRESSION
SCAPEGOATING.
A FIFTH ELEMENT I WOULD ADD IS
WILLFUL IGNORANCE—
A REFUSAL TO
RESIST,
AND
A REFUSAL TO
SEE & HEAR
WHAT IS HAPPENING.

---
IMAGEZ
SET 1
SET 2
SET 3
SET 4
SOUNDZ
anuncios
aqui estamos
basura, pitos, tambores
bush: racista
como chinga
facismo
freeguey 1
freeguey 2
freeguey 3
ixkuintl in tha crowd
kuleros
levantar la voz
mayor trouble
ole
porquería
pueblo unido
quien sufre y quien gana
si se pudo
un mundo sin fronteras
tambores de la rebelión
unete pueblo
vroooom
wake up, ése
INDEPENDENT MEDIA
Los Angeles Independent Media Center
"Brown Skin/Yellow Star: Why You Must Join the March 25th Demo"
"Speak Now, or Never: Stopping Sensenbrenner"

---