ABRIENDO BRECHA IV:
ACTIVIST SCHOLARSHIP CONFERENCE ON
CRISIS, POLITICS & PERFORMANCE IN THE AMERICAS
22—24 FEBRUARY, 2007
THE UNIVERSITY OF TEXAS AT AUSTIN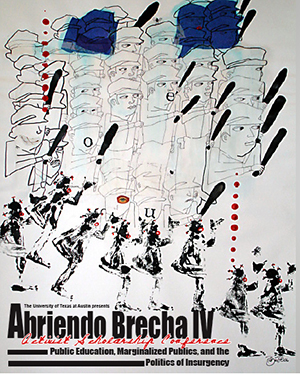 I had the privilege of attending the Abriendo Brecha IV Activist Scholarship Conference at the University of Texas at Austin, where I participated in helping to organize and facilitate a workshop entitled BREAKING THE WALLS OF THE UNIVERSITY: DISRUPTING, RECLAIMING AND ACTIVATING SPACE, with compas Jordan Camp, Pablo González, and Sirena Pellarolo.
At the conference, I had the opportunity to meet a lot of great people and see/hear some very inspiring work, as well as to pass out many copies of the latest issue of my zine. Some of the highlights included hearing Miriam Miranda of the Garifuna organization OFRANEH (Organización Fraternal Negra Hondureña) give her palabra about her work and experiences as a Garifuna in Honduras, as well as the testimonio of educational and community organizing in the autonomous regions of Nicaragua by Alta Hooker, Rectora de URACCAN (Universidad Región Autónoma de la Costa del Caribe de Nicaragua). Both women explained and exemplified an inspiring, alternative vision to the traditional binary dichotomy of academic space & knowledge / community space & knowledge. It was also great to hear from members of The Beehive Design Collective/Colectiva la Colmena and to get a peak into their stunning work-in-progress poster, which will deal with current neoliberal, neocolonial practices, and resistance to them, in Mesoamérica.
Some of the most exciting moments for me, however, took place outside the space of the conference. For example, I had the opportunity to talk about the politics of listening and the Zapatista movement of encuentros, with my fellow workshop-organizers/facilitators, on Radio Caracol, an hour-long program on UT Austin's KVRX, 91.7 FM. I was also able to attend a screening at the Rhizome Collective of some of the latest video work by Jill Friedberg (This Is What Democracy Looks Like, 2000; Granito de Arena, 2005) and the colectivo Mal de Ojo TV on the uprising in Oaxaca. Jill and members of Mal de Ojo were in attendance, and their work included some amazing footage of the women's takeover of Canál 9 TV station, as well as some disturbing, recent interviews with victims of abuse, violence, and sexual harrassment by the Mexican Federal Police Force, which swept in to squash the rebellion at the end of November 2006.
Below are mp3 audio recordings of some of the panel presentations and workshops that I attended, including our own workshop and Radio Caracol discussion. If you would like any of this material on a CD, please email me at the address at the bottom of this page to make arrangements.
Many thanks to the organizers of this conference, UT Austin's Center for African and African-American Studies (and others). Special thanks to Geoff, who generously let us stay at his place, and to Pablo, for his generous hospitality in general. Thanks also to my other fellow workshop-organizers/facilitators, Jordan and Sirena, for an invaluable learning and growth experience.

---
Organizer:
Sirena Pellarolo, California State University at Northridge
Participants:
Jordan Camp, University of California at Santa Barbara
Pablo González, University of Texas at Austin
Ruben Mendoza, California State University at Northridge
Sirena Pellarolo, California State University at Northridge

RADIO
RADIO CARACOL BROADCAST DISCUSSION (KVRX, 91.7 FM, AUSTIN):
THE POLITICS OF LISTENING & A MOVEMENT OF ENCUENTROS
[mp3; 38:30; 35.2 megabytes]
DJ/Organizer:
Pablo González, University of Texas at Austin
Participants:
Juan Berumen, Indiana University
Jordan Camp, University of California at Santa Barbara
Ruben Mendoza, California State University at Northridge
Sirena Pellarolo, California State University at Northridge
MORE INFORMATION
KVRX 91.7 FM, UT Austin
Chican@ Graduate Student Association, Cal State Northridge
De Tod@s Para Tod@s
Enlace con el Delegado Zero y la Comisión Sexta del EZLN—La Otra Campaña
---
PANELS: ACTIVIST RESEARCH EXPERIENCES

I. THE CARIBBEAN CENTRAL AMERICAN RESEARCH COUNCIL

Chair:
Joao C. Vargas, University of Texas at Austin
Organizer:
Edmund T. Gordon, University of Texas at Austin
Participants:
Eva Thorne, Brandeis University (not present on panel)
Galio Gurdian, CCARC, Nicaragua
Marciela Kauffman, CCARC, Nicaragua
Joseph Berra, CCARC
Charles Hale, University of Texas at Austin
1. Intro + Marciela Kauffman
[mp3; 24:41; 22.6 megabytes]
2. Galio Gurdian
[mp3; 17:24; 15.9 megabytes]
3. Edmund Gordon & Charles Hale
[mp3; 33:16; 30.4 megabytes]
4. Joseph Berra + Q&A
[mp3; 01:00:35; 55.4 megabytes]
II. LAND RIGHTS STRUGGLES & ACTIVIST RESEARCH

Chair:
Charles Hale, University of Texas at Austin
Organizer:
Edmund T. Gordon, University of Texas at Austin
Participants:
Miriam Miranda, OFRANEH, Honduras
Alta Hooker, Rectora URACCAN, Nicaragua
Juan Tiney, CONIC, Guatemala
Simon Paton Gream, MASTA, Honduras (not present on panel)
1. Intro—Charles Hale
[mp3; 07:09; 6.5 megabytes]
2. Juan Tiney
[mp3; 18:51; 17.2 megabytes]
3. Miriam Miranda
[mp3; 20:40; 18.9 megabytes]
4. Alta Hooker
[mp3; 20:11; 18.4 megabytes]
5. Q&A
[mp3; 37:13; 34.0 megabytes]
MORE INFORMATION
Universidad Región Autónoma de la Costa del Caribe de Nicaragua (URACCAN)
Coordinadora Nacional Indígena y Campesina (CONIC)—Guatemala
Organización Fraternal Negra Hondureña (OFRANEH)
GarifunaWeb
The Caribbean Central American Research Council (CCARC)

---
PANELS: ART & PERFORMANCE
I. THE BEEHIVE COLLECTIVE/COLECTIVA LA COLMENA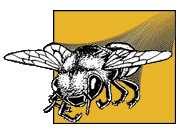 Organizer:
Juan Martínez
Participants:
Juan Martínez
Kehben Grifter
David Lee
1. The Beehive Design Collective/Colectiva la Colmena
[mp3; 01:19:40; 72.9 megabytes]
II. PERFORMANCE AND ACTIVISM: ALTERNATIVE ACADEMIC STRATEGIES

Chair:
Deborah Paredez, University of Texas at Austin
Organizer:
Joni L. Jones/Omi Osun Olomo, University of Texas at Austin
Participants:
D. Soyini Madison, University of North Carolina at Chapel Hill
Sharon Bridgforth, University of Texas at Austin, The Austin Project
1. D. Soyini Madison—"Water Rites"
[mp3; 32:05; 29.3 megabytes]
2. Sharon Bridgforth—The Austin Project + Q&A
[mp3; 53:42; 49.1 megabytes]
MORE INFORMATION
The Beehive Design Collective/Colectiva la Colmena
The Austin Project
---
PANEL

DECOLONIZING METHODOLOGIES

Chair:
Jafari S. Allen, University of Texas at Austin
Organizer:
Charles Hale, University of Texas at Austin
Participants:
Chela Sandoval, University of California at Santa Barbara
Linda Tuhiwai Smith, University of Auckland, New Zealand
M. Jacqui Alexander, University of Toronto
1. Part I: Discussion
[mp3; 01:17:02; 70.5 megabytes]
2. Part II: Q&A; Word Exercise
[mp3; 01:16:25; 69.9 megabytes]
---