AUDIO RECORDING:
BARBARA CARRASCO—A BRUSH WITH LIFE
PANEL DISCUSSION AT ELAC WITH
SHIZU SALDAMANDO, CARLEE FERNANDEZ, SANDRA DE LA LOZA, RITA GONZALEZ
24 a p r i l 2008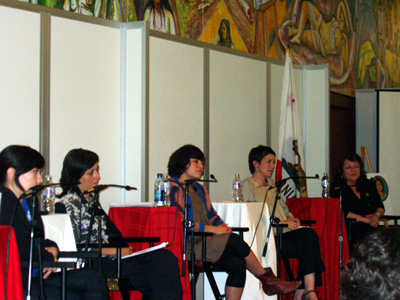 l–r: Shizu Saldamando, Sandra de la Loza, Carlee Fernandez, Rita Gonzalez, Barbara Carrasco
After an introduction by Karen Rapp of the Vincent Price Art Museum at East Los Angeles College, this intergenerational powerhouse panel of Chicana artists presented individually (Carlee Fernandez, Sandra de la Loza, and Shizu Saldamando), and then followed with a general discussion and q&a with Barbara Carrasco, moderated by curator, Rita Gonzalez.
The panel discussion connected Barbara Carrasco's extensive, mid-career survey overview at ELAC's Vincent Price Art Museum, A Brush With Life (closing reception Thursday, 1 May, 6 to 8 p.m.), to LACMA's Phantom Sightings exhibition, by putting world-renowned Carrasco in conversation with these emerging artists whose work is included in the Phantoms show. It was interesting to hear the artists discuss their work and to contextualize its content, form, and techniques, in relation to the influence of Carrasco's work, and to feminist, Chicana art in general.
Carrasco made particular note of the recent inauguration of a new Girl Scouts merit patch that uses her well-known painted portrait of legendary UFW co-founder and leader, Dolores Huerta (both Carrasco and Huerta were Girl Scouts). In a separate conversation, I asked about the merit patch, and Carrasco explained to me that it is earned based on the girls' completion of a curriculum designed to develop leadership skills and community service, as well as a demonstration of knowledge and awareness of Huerta's life and of women's, farmworkers' and immigrants' histories and issues. To see the new patch, click here.
Also, be sure to check out the most recent issue of Ms. magazine, which contains a five-page story on Barbara Carrasco's work.
---
To listen to the panel discussion and Q&A, click below (right/ctrl-click to download):
1. INTROS; CARLEE FERNANDEZ; SANDRA DE LA LOZA
[44'48; 41.1 mb]

2. SHIZU SALDAMANDO; RITA GONZALEZ; BARBARA CARRASCO; Q&A
[49'37; 45.5 mb]

---
Links to more information:
A Brush With Life Exhibition Poster
---