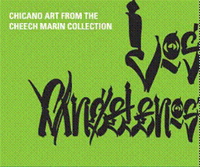 AUDIO RECORDINGS:
LOS ANGELENOS: CHICANO ART FROM THE CHEECH MARIN COLLECTION
LOS ANGELES COUNTY MUSEUM OF ART
1.
DISCUSSION:
CHEECH MARIN AND CHON A. NORIEGA
s u n d a y, 22 j u n e, 2008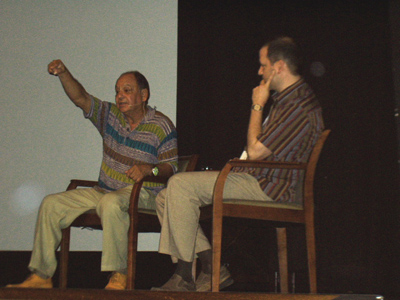 Cheech Marin and Chon A. Noriega
As part of the exhibition LOS ANGELENOS: CHICANO ART FROM THE CHEECH MARIN COLLECTION, LACMA hosted a discussion between Cheech Marin and Chon A. Noriega.
During the very lively and humorous discussion, Marin described how he educated himself about art through the public library system when he was growing up. He noted that at the same time, during his youth, he also first developed what he described as a "mania" for collecting (e.g., baseball cards), and for having to get "the whole set." Both practices would later prove seminal to his Chicano art collecting as an adult.
At one point, Marin was addressing some of the objections raised by artists about the corporate sponsorship of Target stores, which he argued was necessary in order to mount the various, highly successful exhibitions around the United States over the past few years. "It's barbed wire and cactus," Marin quipped. "How is that co-opting your vision?"
As noted elsewhere in the discussion, LACMA's two-month or so overlapping of this show with the Phantom Sightings exhibition has the potential to generate some rich dialogue between the two.
I agree, and I am still imagining what that dialogue would sound like in a public forum like this.
No doubt, it would include some very interesting conversations about Targets, and Decoys.
---
---
2.
CONVERSATION:
CHAZ BOJORQUEZ AND VINCENT VALDEZ
s u n d a y, 29 j u n e, 2008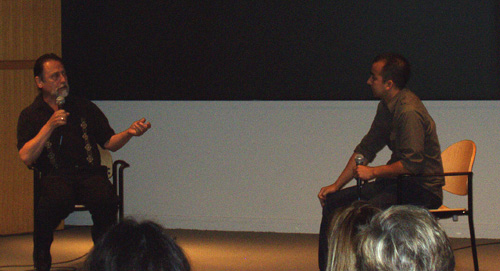 Chaz Bojorquez and Vincent Valdez
As part of the exhibition LOS ANGELENOS: CHICANO ART FROM THE CHEECH MARIN COLLECTION, LACMA hosted an intergenerational conversation between pioneering graffiti artist, Chaz Bojorquez, and up-and-coming muralist, Vincent Valdez.
Some really interesting points of historical connection came up between the originary moment of gang formations in East LA due to the need for self-defense from state and vigilante terrorism during the Zoot Suit Riots, on one hand, and the protests of the 1999 WTO Ministerial Conference in Seattle, on the other. Chaz extended this conversation about the changing roles, identities, and positions of Chicanas/os within a global, transnational context, as he discussed his role as a globe-trotting Chicano artist in dialgoue with the international world of graffiti art, which recognizes and respects Chicano LA culture as a primary source of graffiti art.
Unfortunately, the sexist, male-centric exclusion of women from involvement and recognition within the graffiti art world was replicated here when an audience member posed the problem to Chaz. Evading the underlying issues of sexist exclusion, Bojorquez invoked the macho competitiveness that he claims drives excellence in graffiti art. His explanation for why there are so few women graffiti artists? They just don't vibe on competition in the same way (the subtext: they just don't cut it).
Not only does this response evade the real underlying issues of sexist exclusion with some lame macho talk, it also, of course, replicates the social-Darwinism of capitalist individualism.
Interestingly, when this same kind of question of exclusion was put to a panel of artists and curators at MOCA in regard to the exclusion of Chicano comics artists Gilbert and Jaime Hernández from the Masters of American Comics show a few years back, the response was similar: Competitive field, they simply didn't make the cut, etc.
In general, the theme of an internally constructed process of inclusion and exclusion, especially through selling out (or "buying in"—???), continues to shadow all of these discussions around the Phantom Sightings show, this show, and other related events and conversations—whether people want to address it or not. Whether through the annointment of Cheech Marin's buying power, or through the annointment of highly educated academic theorization, some are being included, some are being excluded, and some are simply being deluded.
What's clear in any case is that this process is occurring from within, through the blessings of the officially appointed Chicana/o gatekeepers. And until we start having a real critical dialogue about how this process is unfolding—an inclusive, welcoming dialogue—the costs will continue to outweight the benefits.
Special thanks to Joanna Aguirre for assisting with documentation of this event.
---
---