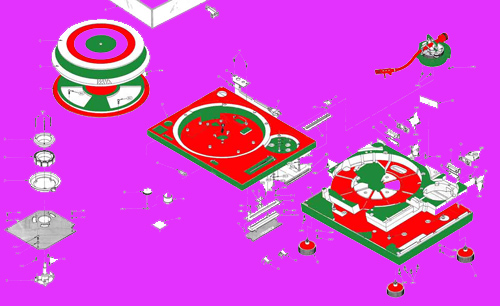 AUDIO RECORDINGS:
FEATURING THE LIGHTZ AND SOUNDZ OF...:
A 30-Year Survey of DJ Culture From East L.A.
G727 Gallery
---
1. PANEL DISCUSSION:
ANATOMY OF THE NORTHEAST L.A. BACKYARD PARTY
w e d n e s d a y, 2 j u l y, 2008
Raúl Báltazar (Moderator)
Willie (DJ Guilty)
Karen Salgado (Divine Dolls)
Gerard Meraz (Wild Boyz, Brat Pack)
Miguel (DJ Reckless; Anti Socials)
Chris Gutiérrez (Anti Socials; Jam Packed Productions)









click thumbnails for full-size images.


[JUMP TO AUDIO LINKS]
As part of his Gallery 727's exhibition, Featuring the Lightz and Soundz of: A 30-Year Survey of DJ Culture in East L.A., Adrian Rivas hosted "Anatomy of the Northeast L.A. Backyard Party," the first in a series of Wednesday night panel discussions involving DJs, promoters, producers, and other leaders and participants of the DJ movement.
As the event announcement notes, "These discussions revolve around the concept of exploring and archiving DJ culture from ELA. The panels are designed to capture testimonies from leaders of the DJ movement from the present, past and future so their history can be included in future discussions of the west coast and global dance scene and Chicano cultural production."
Moderated by artist Raúl Báltazer, who did an excellent job here, this particular panel engaged in a very lively and illuminating discussion with testimonios from some of the key DJs, promoters, and musicians, who lived it (repping here El Sereno, City Terrace, Boyle Heights, South Central, Highland Park, and the Valley).
From insight into the work and ingenuity that goes into building and maintaining underground cultures, to the relationships between the gay disco scene and the ELA backyard party scene, to the connections between raves, alternative, conscious Chicano bands like Quinto Sol and Ozomatli, and social justice activism and community spaces, this dialogue was really breaking it down.
Most definitely check this one out, pass the word, and make it out to the other panels if you can.
g727
727 South Spring Street
LA, CA 90014
213.627. 9563
www.g727.org
---
2. PANEL DISCUSSION:
INNOVATORS OF STYLE AND PROGRAMMING
w e d n e s d a y, 16 j u l y, 2008
Gerard Meraz (Moderator)
Frank del Rio
Richard "Humpty" Vission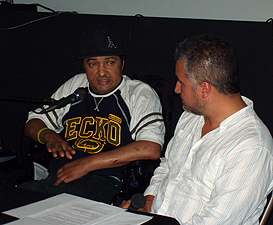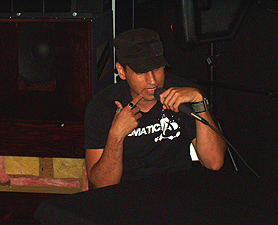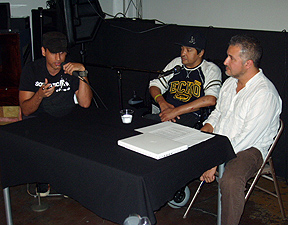 l-r: Richard "Humpty" Vission,
Frank del Rio, Gerard Meraz
Once again, another great panel discussion, this time between innovators Frank del Rio and Richard "Humpty" Vission, and moderated by DJ and scholar, Gerard Meraz, one of the co-curators of the exhibition.

As the panel announcement notes, these are groundbreaking DJ's who "refined the art of DJing," and "helped
shape the art of mixing and programming...[v]ia their DJ booths, radio shows and productions."
The discussion about the rapid changes in DJ technology are particularly interesting, as Vission and del Rio weigh in on the costs and benefits of using digital media, the innovations of CDJs and mp3s, and the shift away from vinyl. The discussion about the future of radio is also really interesting, as well as the ways in which the innovations in DJ culture and music production have shifted away from New York to Los Angeles, making this a really exciting time to be producing, spinning, or even just dancing to, music in LA.
Be sure to check out Gerard Meraz's study of DJ culture, An Oral History of DJ Culture from East Los Angeles, which, as Adrian Rivas has noted, was a main impetus for this exhibition. The text is available online by clicking here.
---
3. PANEL DISCUSSION:
BREAKING THE LANGUAGE BARRIER: MIXING MUSIC EN NUESTRA LENGUA
w e d n e s d a y, 23 j u l y, 2008
Raúl Campos (Moderator)
DJ Santi
DJ Sloepoke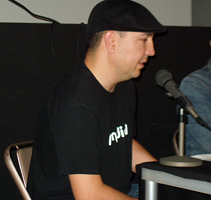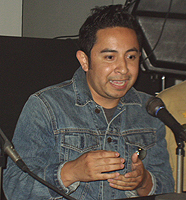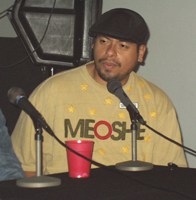 l-r: Raúl Campos, DJ Santi, DJ Sloepoke
From the event announcement for this panel discussion:
"An intimate conversation with DJs Raul Campos, Alexxx Tercero, Santi & Sloepoke who expanded the breadth of musical genres and styles by incorporating Latin alternative, dance classics and international pop and rock into their repertoires. Each DJ has helped fuel the massive Latin Alternative scene from their radio shows and clubs, and made Los Angeles the center of international music in Spanish."
[Note: Alexxx Tercero wasn't able to make it to the panel.]

As with previous panels, this discussion was interesting and informative, especially in contextualizing L.A. DJ culture as part of a broader Latin American and international discourse.
I have to say that I was disappointed with Raúl Campos's (and the other panelists') responses to Gerard Meraz's point about how it's not until white "taste-makers" like KCRW's Nic Harcourt, or the late DJ Dusk, deem a style or band "cool," that it sort of gets the go-ahead approval for more exposure and recognition. In other words, Latina/o DJ's could be playing the most off the hook Latino rhythms and sounds, but until a DJ Dusk spins it for hipsters in Silver Lake, or until a Nic Harcourt plays it on Morning Becomes Eclectic, it's like it doesn't really matter or even exist. Campos, and to a certain extent, the other panelists as well, denied this gatekeeper dynamic, arguing that cool music is just cool music, and it will always make its way through no matter what.
¡No manches, güey!
It was also disappointing to hear DJ Sloepoke complain about attractive female DJ's having an advantage over male DJ's (i.e., superior male DJ's are supposedly losing out gigs to less skilled female DJ's because they are not as attractive or... female). Right. Homeboy probably had some particular personal bad experience where he got bumped from a gig, but in a world that is so male-dominated like DJ culture (not to mention society in general), I think Sloepoke might want to check himself and rethink this line of reasoning.
Otra vez—¡No manches!
I did really like how DJ Sloepoke broke it down about being able to culturally know and read his audience—knowing when to lean more caribe style and play merengue, for example, or when to play cumbias, or norteño music or rancheras—based on knowing the specific geographical and cultural background of a particular audience of dancers at the various Latino parties, bodas, quinceañeras, etc., that he has worked. Knowing what to drop to keep everybody dancing at a party of Salvadoreñ@s, as opposed to a party of Guatemaltec@s, or of Puerto Riqueños, or Sinaloenses, or even Silver Lake hipsters—now that's some real knowledge and skill that I'd like to see Nic Harcourt bust out with.
---
4. PANEL DISCUSSION:
MIX MASTERS, RESIDENTS, AND FRIENDS
w e d n e s d a y, 6 a u g u s t, 2008
Steve Beltran (Moderator)
Pebo Rodriguez
Carlos Mongalo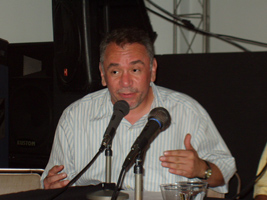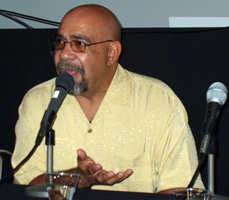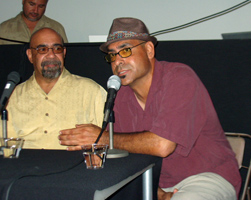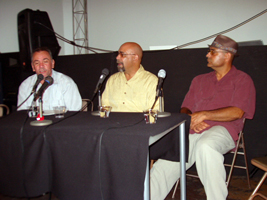 l-r: Steve Beltran, Pebo Rodriguez, Carlos Mongalo
From the event announcement and g727's web posting for this panel discussion:
"After attending one of our panels, Steve Beltran, a major figure from the East Los Angeles DJ scene, proposed this panel of some of his closest DJ confidants and colleagues. The DJs on this panel have been spinning since the early 1980's from some of the most influential DJ booths in the area. They have had their hands in music production, promotion, sales and publication throughout their careers. They have seen the scene go through its various changes and worked within it always. The gathering of these DJs would not have been possible if not for the work of Steve Beltran. This will truly be an intimate conversation among DJs who have known each other throughout the years."

Some great discussion again about the shifts from analog to digital, this time more specifically focused not so much on going from vinyl to CD to mp3, but instead, on the production-side changes in how dance music was made. These DJs and producers, one of whom has worked with major artists like Prince, talked about the shifts from using acoustic instruments in making disco and other music, to synthesizers, click tracks, sequencing, and drum machines. As Carlos Mongalo explained, having a click track and sequenced music made it easier to mix, but at the same time, there is a particular craft and skill involved in mixing acoustic-based music because of shifts in tempo within the same song that demand a little more creativity in order to synch up different tracks.
There is also some really interesting discussion about some of the race dynamics of spinning at clubs where managers would purposely force the DJ to play specific kinds of music in order to clear the floor of one demographic and attract other demographics.
Finally, there are some classic, hilarious stories in here that shouldn't be missed—the stories about Prince and Ringo Starr are great, as well as the description of how DJs would meet up way after hours at spots like parking lots to exchange information, tips, and music, in informal, late-night "workshops." These cats have some deep history and experience and I'm sure they could have gone on all night with story after story of some crazy times. As Carlos Mongalo put it when asked to describe the zeitgeist of the DJ life and culture in 1979: "Lots of cocaine. Free sex. It was easy to get laid."
Right on. Sounds good to me.
ALSO:
Be sure to check out g727's awesome ANATOMY OF THE L.A. BACKYARD PARTY piece at KCET online.
Gerard Meraz's work on this is superb, especially his 80s mix—don't miss it, it is off the hook.
---
6. PANEL DISCUSSION:
THE POWER TOOLS PANEL
w e d n e s d a y, 2 7 a u g u s t, 2008
Romulo Rivera (Moderator)
Richard Vission
Swedish Egil
Gerard Meraz
Raul Campos
Alberto Fusion
David Delano
Robert Cazares
From the event invite:
" The Power Tools Panel:
At 16 years old, Power Tools is the longest running DJ mix show in the world. Richard Vission, Swedish Egil, Gerard Meraz, Raul Campos, Alberto Fusion, David Delano, and Robert Cazares will take questions and share anecdotes about the show's history, the evolution of DJ culture, technology, and the future of radio. This will also serve as a belated birthday party, come for cake and ice cream."
Note: The mic/input volume was a little hot, so there is some distortion on the audio.
---
---