AUDIO RECORDING:
GRONK
INFORMAL TALK AT ART MURMUR GALLERY, DOWNTOWN LA
30 n o v e m b e r 2006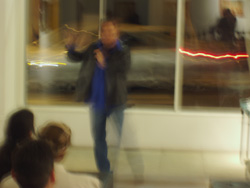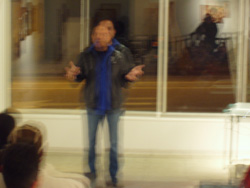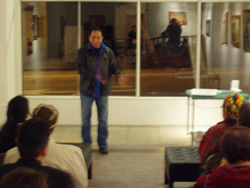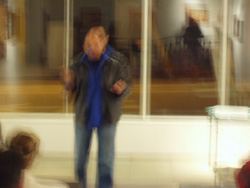 Gronk in Action

World-reknowned and internationally exhibited artist Gronk gave an informal talk at art murmur gallery in downtown L.A. recently.

Gronk discussed his work since the late 1960s, including recent set design opera work as well as the upcoming release of a DVD of his work.

Unfortunately, about halfway through the discussion, a young star-struck couple sat on my microphone and digital recorder at the front of the room, while I was at the back of the room. Not wanting to interrupt the talk, I watched in dismay as the couple cuddled over my audio devices. This was particularly unfortunate, because the second half of the talk included a more informal discussion of some great stories by Gronk, as well as a Q&A session. So, I have broken the talk into two parts: PRE-COUPLING, and for those who don't mind all the audio bangs and shifts and muffled sound, POST-COUPLING.

Enjoy!
---
To listen to the talk and Q&A, click below (right/ctrl-click to download):
AUDIO: GRONK (PRE-COUPLING)
[48:33; 44.4 megabytes]
AUDIO: GRONK (POST-COUPLING)
[44:01; 40.2 megabytes]
---
More information:
from the art murmur website:
"Internationally renowned Los Angeles based artist, GRONK, first came to prominence in the 1970's as a pioneering Chicano artist exploring contemporary urban and cultural themes through the fusion of painting, performance and installation. His work has been documented by such notable institutions as the Smithsonian American Art Museum. He has created murals, installations and performances for museums as diverse as the Los Angeles County Museum of Art, the Corcoran Museum of Art in Washington, D.C., the San Francisco Museum of Modern Art, and the National Hispanic Cultural Center in Albuquerque, New Mexico. Most recently, he created a unique computer animated fulldome art piece entitled, "BrainFlame," for the Arts Technology Center at the University of New Mexico, in collaboration with composer Steven LaPonsie, animator Hue Walker, and students of the Digital Pueblo Project. This year, he is one of 87 artists featured in the international exhibition "Los Angeles – 1955-185" at the Centre Pompidou in Paris, France."
Oral History Interview with Gronk in Los Angeles, California
20 & 23 January, 1997
Interviewer: Jeffrey Rangel
---