AUDIO RECORDING:
SESSHU FOSTER
READING & Q&A AT CALIFORNIA STATE UNIVERSITY AT NORTHRIDGE
26 a p r i l 2007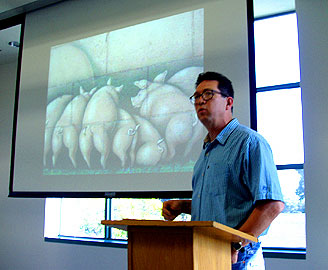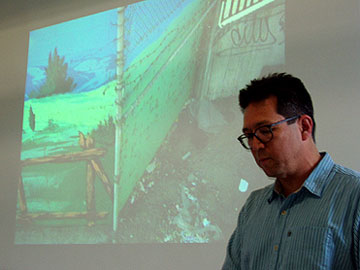 Sesshu Foster
After an introduction by Chicana/o Studies professor Victor Carrillo at California State University at Northridge, City Terrace/ELA native Sesshu Foster gave a reading from his novel Atomik Aztex, along with a slideshow of photos of the City of Vernon's Farmer John's hog rendering plant by Arturo Ernesto Romo. Afterwards, Sesshu answered questions from students and professors in the audience.
One burning query that was never quite resolved for one questioner was the target, age-appropriate readership of Atomik Aztex. Foster was gracious in his reply. All I can say is that in some alternate universe, a more bad-ass version of me read this novel as a kid and plunged head-first into the House of Mist.
---
To listen to the reading and Q&A, click below (right/ctrl-click to download):
AUDIO: SESSHU FOSTER
[57:50; 53 megabytes]

---
Links to more information:
Sesshu Foster's LITTLE DOG blog
---
Sesshu Foster is the winner of a Believer Magazine Book Award. He has been a professor of writing at the University of Iowa, the University of California, Santa Cruz, California Institute for the Arts, and has taught composition and literature in East LA for 20 years.
This CSUN event was co-sponsored by: Office of Graduate Studies; College of Humanities; Chicano/a Studies Department; English Department; Asian American Studies Department
---