THE GARGOLA FILES
1 n o v e m b e r 2009 – 1 a u g u s t 2010
[ for V—all of it ]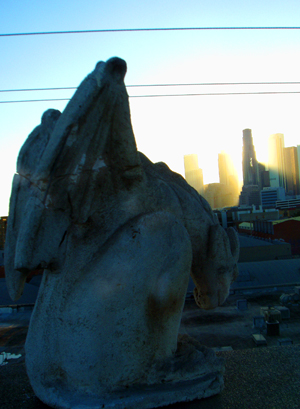 TEXTS / PERFORMANCE
embrace your inner telenovela blues
[1 november 2009]
pura bola de
[13 november 2009]

two different
[15 november 2009]
multicollinear collision | ethical divide
[5 december 2009]
swarm 4 warm 2 morrows
[31 december 2009]
be seeing you! [V-Day! V-Day! V-Day!]
[14 february 2010]
cante chico/toque jondo [baile fuego/ceniza pa' ti]
[6 march 2010]

bitter end : poof!
[22 july 2010]


~~~~~~~~~~~~~~~~~~~~~~~~~~~~~~~~~~~
epilogue (x2) = fickle fickle (F/T?)
[1 september 2010]


REFERENCES
Mysteries, Knut Hamsun.
Let The Right One In (2008; orig.: Låt den rätte komma in). Dir. Tomas Alfredson.
Lafcadio's Adventures, André Gide.
The Immoralist, André Gide.
The Counterfeiters, André Gide.
Philosophy in the Boudoir, Marquis de Sade.
Breathless (1960; orig.: A Bout De Souffle). Dir. Jean-Luc Godard.
The Dreamers (2003). Dir. Bernardo Bertolucci.
If (1968). Dir. Mick Jones.
Difference & Repetition, Gilles Deleuze.
Mimesis & Alterity: A Particular History of the Senses, Michael Taussig.
Moon (2009). Dir. Duncan Jones.
The Prisoner (1967–1968). Patrick McGoohan, George Markstein.
El Topo (1970). Dir. Alejandro Jodorowsky.
The Commanding Self, Idries Shah.

A Season in Hell, Arthur Rimbaud.
A Serious Man (2009). Dir. Ethan Coen, Joel Coen.
Journey to Ixtlan: The Teachings of Don Juan, Carlos Castañeda.
The Holy Mountain (1973). Dir. Alejandro Jodorowsky.
Beelzebub's Tales to His Grandson: All and Everything, G. I. Gurdjieff.
Wisdom of the Idiots, Idries Shah.
Baraka (1992). Dir. Ron Fricke.
Latcho Drom (1993). Dir. Tony Gatlif.
---