animocarnal — S T A I R C A G E
1 n o v e m b e r 2011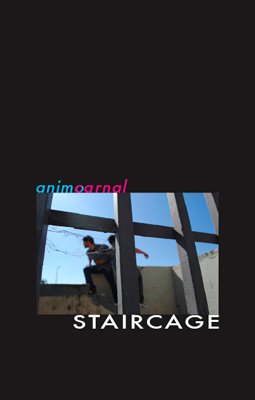 A man is anxious to free himself from a prison, and yet he strengthens the bars. Will he escape?
—Idries Shah, The Commanding Self
---
S T A I R C A G E is a literary/visual archive of 21st century urban Chicana/o
glyphs and difrasismos—photos, visual images, written texts, and
other traces of ephemeral bodily gestures and performances in
the milieu of East Los Angeles, Aztlan, and beyond.
Preview and order copies at MAGCLOUD by clicking HERE.
($13.16 + shipping; no publisher mark-up)
---
PUBLISHER, EDITOR
Ruben Mendoza
PHOTOGRAPHY
Brittany Ascencio
GRAPHICS & VISUAL ART
José Jaime
WRITING
Elizabeth Arroyo
Fermín Castillo
Juan Ceballos
Miguel Sepulveda
PERFORMANCE
Elizabeth Arroyo
Brittany Ascencio
Vincent Carrillo
Fermín Castillo
Juan Ceballos
Joseline Cubas
José Jaime
Ehecatl Negrete
Miguel Sepulveda
---
S T A I R C A G E
©2011 animocarnal publications. All rights are reserved.
S T A I R C A G E is an animocarnal publication of THE SICKLY SEASON–notes from mictlan.
Acknowledgement & special thanks: Harry Gamboa, Jr.
---
contact: kualyque • p.o. box 861843 • los angeles, ca 90086-1843 •
k u a l y q u e @ s i c k l y s e a s o n . c o m