phantom audio 5: a conversation with gronk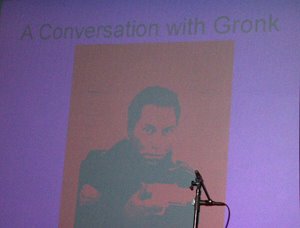 On Sunday, 27 April, NEW Los Angeles Theatre Center (NEW LATC), operated by The Latino Theater Company, hosted "A Conversation with GRONK," moderated by Chon Noriega.

Noriega projected a slideshow of images relevant to Gronk's work, and Gronk responded to them in a lively conversation and discussion of the artist's long career. While the images cannot be reproduced here, Gronk's storytelling provides enough narrative and context even without them. To listen to audio of the conversation, follow the links below.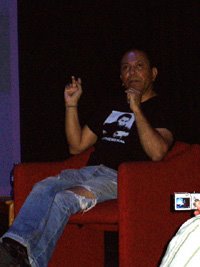 On another note: This was my first time at the NEW LATC. It is a nice venue, and I recommend checking out a show here if you can. One upcoming production that looks of particular interest (in the print catalog, but not yet in the online calendar) is

The Imposter

(

El gesticulador

) by Rudolfo Usigli, running June 5 – 23 (Thursdays, Fridays, Saturdays, 8 p.m.; Sundays, 3 p.m.). The NEW LATC print catalog describes

The Imposter

: "A college professor assumes the identity of a lost hero of the Mexican Revolution and in so doing changes the lives of everyone around him. This classic of the Mexican theatrical repertory, with its theme of political deceptions, is as timely today as when it was written in the 1930s. Critically hailed a masterpiece, a cast of 18 actors will be performing." Tickets are $15 general; $12 for students and seniors; $10 for groups of 10 or more.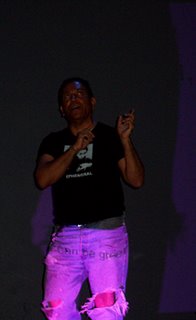 To listen to "A Conversation With GRONK," click below (right/ctrl-click to download):

-AUDIO: A CONVERSATION WITH GRONK, PT. 1
[01:04:00; 58.6 mb; mp3]
-AUDIO: A CONVERSATION WITH GRONK, PT. 2
[00:56:02; 51.3 mb; mp3]