phantom audio 4: barbara carrasco—a brush with life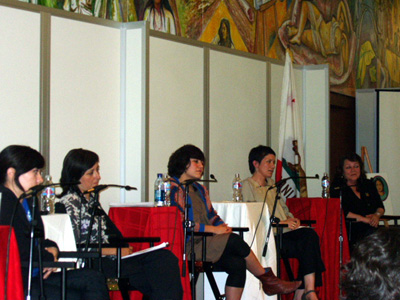 l-r: Shizu Saldamando, Sandra de la Loza, Carlee Fernandez, Rita Gonzalez, Barbara Carrasco.
On Thursday, 24 April, East Los Angeles College's Vincent Price Art Museum hosted an intergenerational powerhouse panel discussion of Chicana artists as part of Barbara Carrasco's extensive, mid-career survey overview

A Brush With Life

(

closing reception: Thursday, 1 May, 6 to 8 p.m.

). Phantom Sightings artists Carlee Fernandez, Sandra de la Loza, and Shizu Saldamando presented individually, followed by a general discussion and Q&A with Barbara Carrasco, moderated by curator, Rita Gonzalez.

The panel discussion connected world-renowned Carrasco's work to LACMA's

Phantom Sightings

exhibition by putting Carrasco in conversation with these emerging artists whose work, influenced in part by her Chicana feminist work, is included in the Phantoms show.

For audio and links, click here.